Lake Cunningham
Scroll down for more details
Lake Cunningham
Lake Cunningham is Greer CPW's smaller, but equally beautiful, lake. The impoundment is approximately 200 acres, and it also serves as part of Greer CPW's drinking water resources. In fact, Greer CPW's drinking water treatment plant sits directly at Lake Cunningham. Much like Robinson, Greer CPW works hard to preserve the pristine nature of Lake Cunningham. The lake also serves as a great spot for fishing and boating. In the Spring of 2016, Greer CPW put in new decking boards on the fishing pier at Lake Cunningham. More improvements are on the horizon.
Visit Lake Robinson nearby!
Suggested Trips (1)
Featured trips for this waterway showing difficulty (circles) and current runnability status (squares). .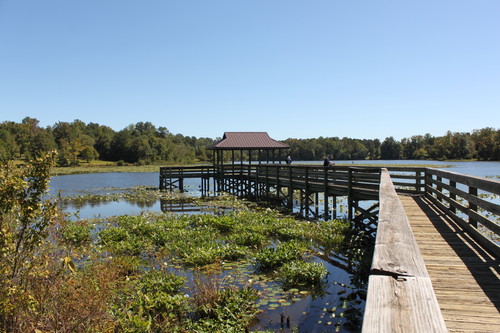 Waterway Resources

Point Data
Share the waterway
Watch for motorboats -- stay to the right and turn your bow perpendicular into their wake. Respect anglers -- paddle to the shore opposite their lines.